.
The 38th Annual Meeting of the European Finance Association, organized by Stockholm School of Economics (SSE), the Institute for Financial Research (SIFR) and Fisher College of Business, The Ohio State University, was held at Clarion Sign Hotel, Stockholm, Sweden August 17-20, 2011.
The 39th Annual Meeting of the European Finance Association will be held in Copenhagen, Denmark, August 15-18, 2012.  For information about EFA membership, submissions, registration, etc. please consult the conference web-page www.efa2012.org  or contact the local organizers directly:   efa2012@cbs.dk.   Note that if you submitted a paper for the EFA 2011 meetings, or attended the EFA 2011 meetings in Stockholm, you were a member for 2011.  However, in order to submit a paper for the 2012 meetings, you need to renew your membership for 2012.  Please see instructions on the EFA 2012 conference web-page www.efa2012.org.
New Photos:
New Meeting Statistics
The annual meeting attracted 629 delegates from all over the world to stimulating research discussions on a wide range of topics related to financial economics.  The 200 academic papers presented at the conference may be downloaded from the online program page of this web-site (see left panel).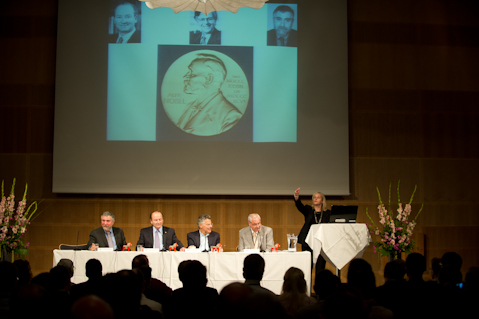 EFA Nobel Panel: Paul Krugman, Robert Merton, Myron Scholes, René Stulz, and Ingrid Werner.
The program also included two high profile panel discussions and a keynote speech by leading scholars in the profession.  There are no distributed materials from the Nobel Panel (photo above) on the topic of "The Future of Finance," but pictures and links to press-coverage are available (see Program/Nobel Panel).  Slides and other materials from the panel discussion on the topic of "Crisis Resolution for Financial Institutions and Countries" are available for download (see Program/Crisis Resolution Panel).  The slides from John Campbell's Keynote Speech on the topic of Mortgage Market Design are also available for download (see Program/Keynote).
SSE was founded in 1909 by industry leaders as a private university.  SSE offers a first-class, internationally competitive undergraduate education in Business Administration and Economics, along with highly regarded Executive Education, MBA, and PhD programs.
SIFR was started in 2001, and aims to conduct and stimulate high quality research in financial economics.  SIFR also has the ambition to narrow the gap between academic research and the practice of the financial industry.
Since 1916, The Ohio State University Fisher College of Business faculty produces leading academic research and its educational programs at the undergraduate, Masters, Executive, and PhD levels produce exceptional leaders and researchers who meet the challenges of a changing global business environment.
Thank you all for participating in the 2011 EFA Annual Meeting!
Ingrid M. Werner
Fisher College of Business, The Ohio State University, and SIFR
Mike Burkart
Stockholm School of Economics
Per Strömberg
Stockholm School of Economics and SIFR
Contact: efa.information@gmail.com